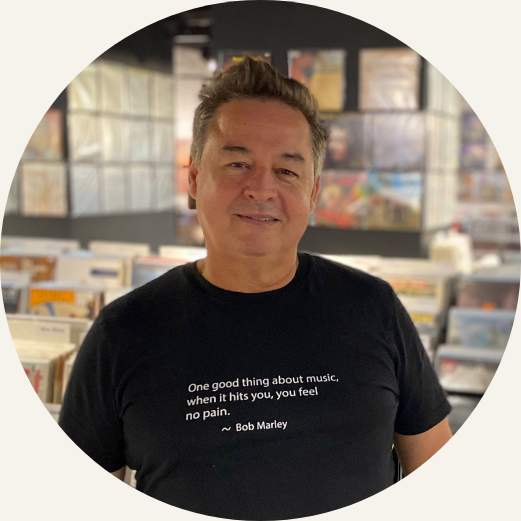 On the Record with Mark
0 comments
In on the record, we speak with members of the Precious Sound community about their music truths, precious mementos, and more.  
This week, I spoke with my Precious Sound co-founder Mark about his musical memories, favorite records (and tapes!), and of course Precious Sound. I learned quite a few surprising nuggets myself.

The Frequency: You grew up in New Zealand, what did music mean to you back then?
Mark: For me, music meant choice and freedom, my early teenage years were marked by the tape, Walkman, and boom box revolution (maybe some readers will remember these too?). It was a big deal to be able to take our music outside with us and not just listen to it at home or in the car. With tapes, we could listen to what we wanted to hear and not what radio DJs thought we should like.
So, I was surrounded by my favorite songs. I remember going to the record shops after school with my friends to get our favorite bands' newest releases. In the summers, we would head to our local beach with our boom box playing our newest tapes, and listen to bands like Dire Straits and Split Enz.
The Frequency: Repping Kiwi artists, love it! What's a song that evokes a precious memory for you?
Mark: It has to be Queen's We Are the Champions of the World. I was at the 1987 Rugby World Cup final with my father, who loved rugby and taking me to matches. The All Blacks were playing against Australia. When we won, I remember running onto the field while We are the Champions of the World blasted through the stadium with every Kiwi singing along. It made me feel so proud of our small country. The joy and energy from the crowd were incredible. I was also lucky enough to see Queen live in Auckland in 1985, so that song definitely means a lot to me. 
The Frequency: That must have been amazing! So how did you end up here as the co-founder of Precious Sound?
Mark: Music was always a central part of my life, even while working in printing, jewellery, and precious metals. And then in 2016, I learned that gold record awards, those that celebrate an artist's gold, platinum, and diamond records, can't actually be played.
It seemed to be such a shame, and a wasted opportunity, so we started our research and making first prototypes. Fast forward a bit, and here we are with a newly patented technology ready to launch.
Music is not only a personal passion for me but part of my professional life. My father used to say: "Son, do something you love." I can't think of a better way than working in the music industry. 
The Frequency: What song or artist would you like to see (and hear) on a gold record?
Mark: So many! If I have to, I'd pick Elton John, he has been the ultimate artist and performer—and he is still incredibly popular all around the world and across age groups. I love that he is still touring in his 70's. I went to see his shows in Auckland in 1984 and 1998. Elton's so influential in the way artists perform and create music, and his music deserves to be immortalized forever on precious gold records.
The Frequency: What most excites you about Precious Sound's silver, gold, and platinum records?
Mark: I believe we all want to experience connection and emotions and music evokes such emotional experiences in all of us. Precious metals like gold have always been alluring since humankind first discovered them. When you put music and gold together the emotional experience that is created is extraordinary. I look forward to passing an everlasting record of songs from artists that mean something to me to each of my children so that they can treasure it throughout their lifetime.
The Frequency: And what most surprised you about our records?
Mark: I adore how they combine their own unique sound with what we all love from vinyl. They are also visually incredible! Precious metals evoke this warmth and richness—you see your reflection in the gold record and feel the warmth of the record before you place it on the player. This creates a special and unique feeling before you even listen to them and makes them stand apart from any other medium of sound.
The Frequency: Do you have any specific music rituals?
Mark: On Sunday mornings, I play my kids YouTube clips of the music that I loved growing up in the 80's. They ask me a lot of questions about the clothing and hairstyles from back then, and whether I looked like that too. I treasure this time together and their interest in the music and what I was like as a kid.
The Frequency: Are your kids following in Daddy's footsteps?
Mark: Yes! On Record Store Day earlier this year, I took my 11-year-old daughter to a record shop to buy her first vinyl. She spent the first hour listening to Dad showing her all the records I loved at her age. Amazingly, many of them are still popular today. Then I let her browse and find the record she wanted. She ended up with Imagine Dragons' Mercury – Act 1. They're her favorite band and she also loved the cover art. She put the record on her wall as soon as she got home. She told me it was such a cool morning, and that we need to go back for RSD next year.
The Frequency: Do you listen to music while you are working?
Mark: Yeah, absolutely, I have music playing in the background non-stop. When I really want to focus, I play jazz music from artists like Miles Davis and John Coltrane.
The Frequency: And what's on your playlist these days?
Mark: I make a lot of my own playlists with a wide range of music. It depends on what I am doing. When I am chilling out in the evening, I will play Reggae from artists like Tarrus Riley and Shaggy. When I am with my family enjoying a meal, I choose a playlist that includes recently released music from artists like Lizzo, Drake, the Weeknd, etc. When I am traveling, I like to try new artists and bands that I haven't heard before. It is one of the great things with digital music, it is so easy to expand the range of music you listen to.
The Frequency: So if I came over for dinner tonight, what would we be listening to?
Mark: Well, I always create a specific playlist based on the occasion and guests. You know I love to cook. For you, it would be cauliflower soup and my world-famous lasagne, without meat of course. We'd start with some Jazz... Miles Davis and Ella Fitzgerald. Then move to a more modern mix with Coldplay, Imagine Dragons, but also some newer artists you may not have heard yet, interspersed with 80's and 90's classics from U2, Sting, Prince, Inxy, Eurythmics, Winehouse, and finally dessert with some very chilled Reggae. 
What could be better than good food, great wine, and incredible music?
0 comments