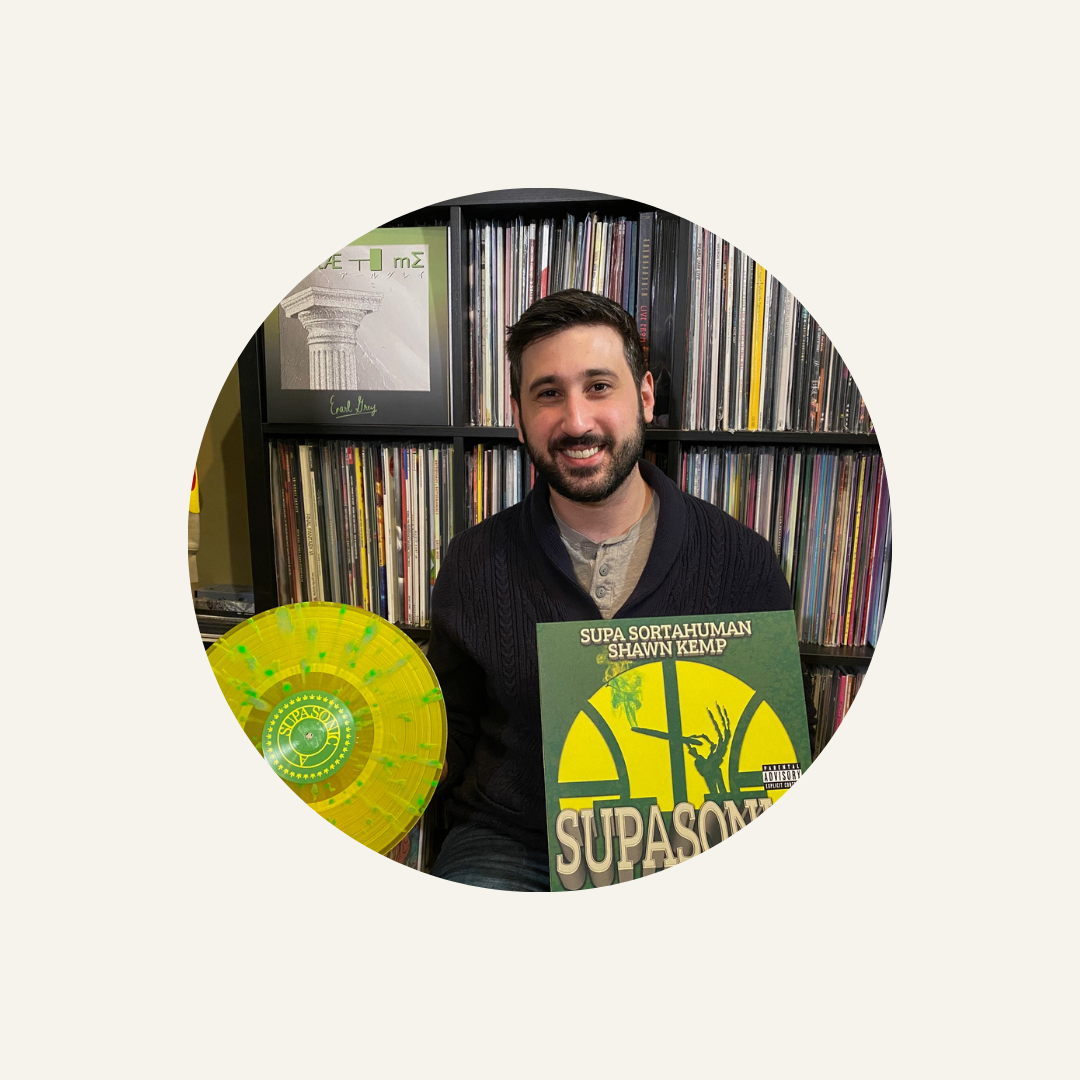 On The Record with Matt
0 comments
In on the record, we speak with members of the Precious Sound community about their music truths, precious mementos, and more.  
In today's On The Record, we sit down with Matt Kessler, owner of Portland Oregon record store Too Many Records, who has amassed nearly 50,000 subscribers on his youtube channel of the same name. We discuss all about Matt's upbringing with music and his incredible vinyl collection that turned a passion into a career.
Matt Kessler and his many records
Precious Sound: What did music mean to you growing up? 
Matt Kessler: Growing up, music was always an integral part of my day-to-day life. Before having my own music, my dad would always be playing Pink Floyd, The Beatles, Bob Dylan, Peter Paul & Mary, and Simon & Garfunkel in the house and the car. When it came time for me to get my own little Discman and CDs, I remember my earliest purchases were System of a Down, Linkin Park, Eminem, and… Backstreet Boys. I was eclectic from a young age, it seems. Falling into the world of MP3 players, I found great joy in building my own virtual library of songs and discovering new ones. Going to concerts was my absolute favorite thing to do on a night out, and I went to them as frequently as my budget would allow. It wasn't until I started collecting records a few years out of College, though, that my passion would explode into an all-consuming way of life that has now, amazingly, led to a career. 
PS: What role does music play in your life today? 
MK: I listen to over 40 hours of music a week, and that's just when I'm at the record shop. It's interesting because my record collection plays a different role in my life than it did two years ago. Because I listen to so many albums in my store (the discovery of new artists and genres is through the roof these days) - the last thing I want to do is go home and listen to one of my own records from my 3000+ piece collection. One day, I figure I won't be at the store for quite as many day-to-day tasks, and I'll be able to enter a beautiful phase of rediscovery with my own collection.
Matt with the Supa Sortahuman X Shawn Kemp Vinyl
PS: What most excited you about Precious Sound's silver, gold, and platinum records? 
MK: As someone who appreciates the sound quality of a record just as much as the visual presentation, a good-sounding "collectible" is the dream for a collector like myself. I love seeing the innovations in the community that friends of mine are crafting, such as liquid fills, holograms, vibrational etchings, "Wax Mage" hand pours, and so much more. The idea that Precious Sound is creating an object that sounds good and looks stunning and unique has me immediately intrigued to the highest level. 
PS: What song or artist would you like to see (and hear) on a gold record?
MK: My favorite song is the cover of The Knife's Heartbeats by Jose Gonzalez, so having a gold record of that would be quite special.  
PS: Do you own a record that makes you particularly proud? 
MK: The 10th record on my label is by an artist named Marcus D. It's a jazzy hip-hop opus full of incredible sample flips and an all-star cast of featured MCs. I didn't know Marcus personally, but I pitched him on pressing my favorite of his albums for the first time, and he trusted my vision and agreed to collaborate. Not only is the 10th album a cool milestone, but it was also my most successful release to date in terms of total copies made and sold. We got to work with the wizards over at Wax Mage in Cleveland to create an ultra-limited to 25 variant for that record too, which visually is mindblowing. The whole experience is one I can step away from and look at from outside my own body and be very proud of.
PS: How do you listen to music? What rituals do you have around listening to music? 
MK: Most of the time I listen to music in the best way, on vinyl. Oftentimes, as mentioned, that's at my record store. I try to spin a record in the morning before heading to the shop, as well. I used to listen to a lot of albums in my car when driving around Los Angeles (because you live in your car there, unfortunately), but these days I listen to Podcasts in the car. I guess when you work in music, you don't listen to quite as much music when you're off the clock. That being said, the listening I do at the store is extremely meaningful, impactful, and transformative to my own growth as a music fan. 
PS: You have built an incredible community of vinyl fans through your Too Many Records YouTube channel over the last 8 years. What's been one of your favorite moments so far? 
MK: One of the most memorable and amazing days of my life was back in 2019 when I threw an event called "TMR Fest" in Los Angeles before ending my 7-year stint by moving back to NYC. I had too many records (ha) so I decided to rent out the upstairs of one of my favorite local bars, The Federal, and create a pop-up shop with 1000 records from my personal collection and three live bands performing. I had a decent audience online, but I had no idea how many were local or how many would come to enjoy the day. I was in awe when 300 people showed up throughout the day to enjoy music and help lighten my load for the move. I sold over 700 records that day, and it was such a great feeling to interact with the community I built over the years and see their support and love in such a tangible way. 
Matt and friends outside of his store Too Many Records in Portland, OR
PS: Like us, you love visiting record stores. You also own your own store, also called Too Many Records in Portland, Oregon. What's been the hardest and best part of owning a record store? 
MK: The hardest part is getting my name out there. Despite having built an audience online for so many years, the majority of those people don't live in Portland. Even a year and a half in, I'm getting people coming into the shop for the first time saying "Oh, did you guys just open?" Instagram ads work well, for sure, but I enjoy finding different awareness plays like collaborations with other local businesses to be more rewarding. The best part is being able to spend my working hours submerged in music and the discovery of new music that comes with that. Having regulars come in and catch up on their lives and their music taste is a true joy, and the sense of community grows with each passing month. 
PS: Portland has a thriving vinyl scene, what are some of the spots you'd recommend when visiting town? 
MK: Music Millennium is the biggest store in town with the most history, and if you're looking for any new records, I would go there first. I love stores that have a great used selection, and for that, I would recommend Speck's and Dig. For world music (in addition to other great used stuff) definitely hit up Mississippi, Little Axe, and the new kid on the block Music History. If you're looking to grab a beer and browse, Record Pub is a great little spot. There are so many good stores in town. 
PS: You also spend a lot of time visiting other stores—and we know you have talked about the worst things a store can do before. What are some of the things you like most at a record store? 
MK: A well-curated used selection that isn't sifting through garbage to get to the good stuff is essential. A spacious layout so you don't feel like you're crushed between rows of bins. A good bin density so you can actually flip through the records and see each one. And, of course, a welcoming staff that makes you feel like they're happy you're there (which is shockingly rarer than you'd think.)
Matt at Too Many Records
PS: What's on your playlist these days? 
MK: Well, my favorite band is The National and they just released an overwhelmingly beautiful new record, so that has been on heavy rotation (especially after catching them two nights in a row here in Oregon on their tour) – but I'm honestly listening to a lot of heavy metal thanks to my girlfriend, Alex, who has opened up that world to me. I'm really digging into the catalogs of Megadeth, Iron Maiden, Mercyful Fate, and other more obscure, but excellent, 80s offerings. 
PS: There are a lot of new record fans coming into the vinyl community, what would be your advice to someone who is just starting their appreciation for vinyl? 
MK: My advice is to do your research. The hobby can be complicated (and expensive) at first, but once you understand the gear and accessories you need (and why you need them) everything falls into place very quickly. YouTubers can be very helpful to learn about the do's and don'ts of the hobby, as well as to attune your ear to new artists or songs. Most importantly, though, remember that this hobby is about the music. Don't get bogged down in over-informing yourself on every aspect and over-analyzing every decision; just sit back and enjoy the experience.
0 comments